🧪 New Feature: Test Check Condition
#announcement #feature
We've recently added a new feature to make it easier to create and edit checks on your Google Sheets.
Previously if you wanted to test if the condition for your check was being evaluated correctly you would need to make a change and see if the notification was sent. While this works it can be a bit tedious and perhaps result in confusion for the person or team receiving the notifications.
To improve upon this we've added a feature that allows you to test if the condition for your checks matches and also view which cells do or do not match the condition.
To access this feature select the Test Condition menu item from the check your are editing: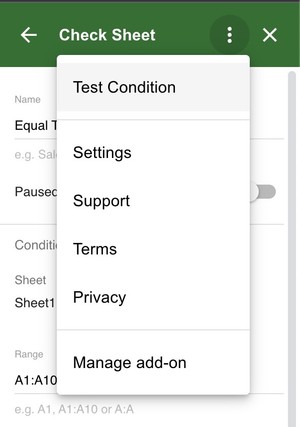 After a short delay while we evaluate your check you should see the results which will explain what the condition was evaluating and whether it matched. In addition to this you'll also see a list of which individual cells matched the condition which should make it easier to understand if the check is doing what you expect.

Hopefully this small change makes the app a bit easier for you to use, if you have any other ideas for features you'd like to see us add please get in touch via email or twitter.